Originally established in 1856 in Paris, Kentucky, Chicken Cock Whiskey rose in popularity during the 19th century and was infamously a staple of Prohibition-era speakeasies, including the Cotton Club, where it would be smuggled inside in nondescript tin cans. Chicken Cock disappeared from the market in the 1950's after the original distillery burned down, but we've now brought "The Famous Old Brand" back, combining 160 years of history with a touch of 21st century.

Brand History
Chicken Cock was first distilled in Paris, KY in 1856. While it became a big Bourbon brand during the 19th century, Chicken Cock really hit its stride during Prohibition as the house whiskey at the famous Cotton Club in Harlem. At the Cotton Club it became known as "The Whiskey in a Tin Can" due to how it was smuggled in to avoid the long arm of the law. A distillery fire in the 1950's put an end to the brand's initial run before being brought back to life by Grain & Barrel in 2016.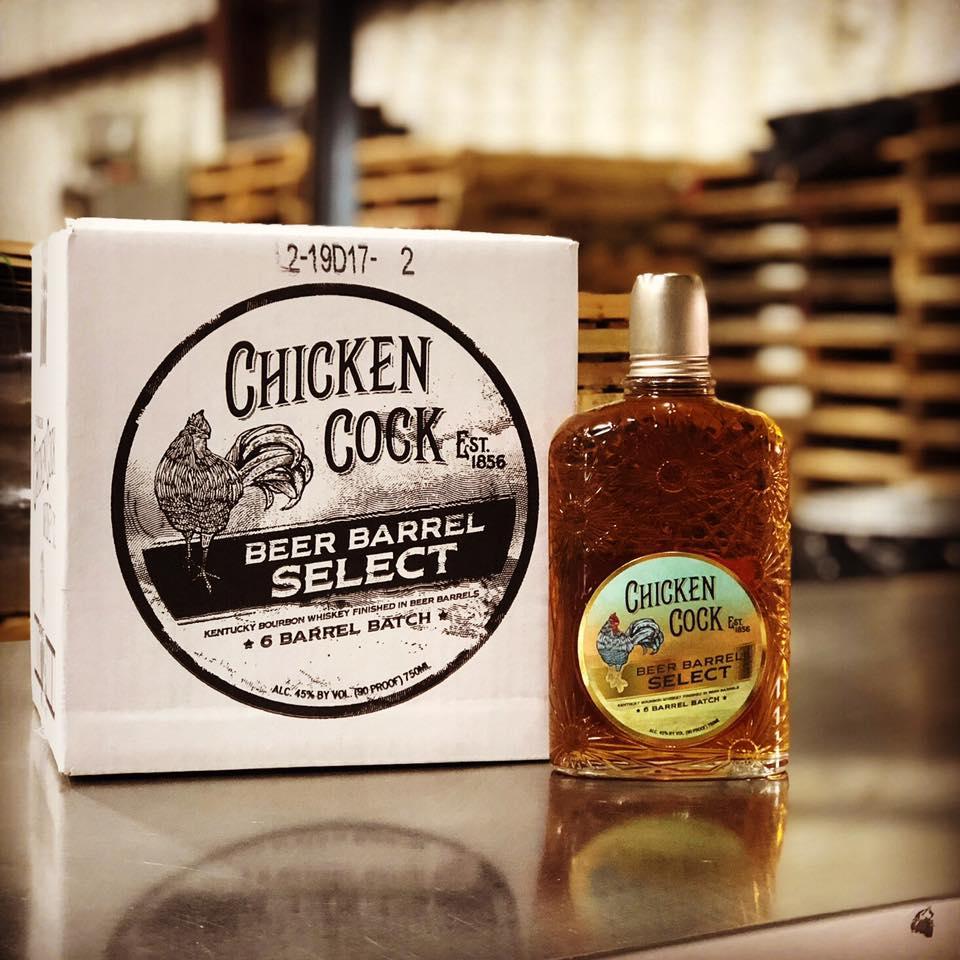 Current Release
In the Summer of 2018, we bottled twelve barrels of our award-winning 10 Year Old Double Barrel Bourbon. We then gave six of those barrels to our friends at Goodwood Brewing in Louisville to finish their delicious Walnut Brown Ale. When they were done, we took those barrels back and filled them with a blend of our best, hand selected Kentucky Bourbon aged up to 11.5 years. The result is our first Beer Barrel Select, born and bottled in the Bluegrass State.

Buy Now

Back Home...
On September 10, 2018, The Bardstown Bourbon Company (BBCo) announced that Grain & Barrel Spirits, the maker of pre-prohibition favorite Chicken Cock Whiskey, has joined BBCo's Collaborative Distilling Program. Grain & Barrel will work together with BBCo to produce custom bourbon and whiskey for the historic Chicken Cock brand, which dates back to 1856. BBCo and Grain & Barrel concluded their first distillation of 616 barrels at the end of August. 

Through BBCo's distilling program, Grain & Barrel's Master Distiller Gregg Snyder will collaborate with Bourbon Hall of Fame Master Distiller Steve Nally and BBCo's first-class distilling team, led by Executive Director of Distilling Operations, John Hargrove, to produce its high-quality, small-batch whiskey, bourbon, and rye for many years to come.

Learn More...

Colorado
Baroness Wine & Spirits
5301 Peoria Street A
Denver, CO 80239
(303) 934-1300
Michigan
National Wine & Spirits
17550 Allen Road
Brownstown Charter Twp, MI 48193
(734) 324-3000
Tennessee (Middle/Eastern)
Lipman Brothers
411 Great Circle Road
Nashville, TN 37228
(615) 244-2230
Tennessee (Western)
Empire Distributors
3676 East Raines Road
Memphis, Tennessee 38118
(901) 272-0276

Alabama
United-Johnson Brothers of Alabama
6000 Greenwood Pkwy, Ste 100
Bessemer, AL  35022
(205) 942-6000

Mississippi
United-Johnson Brothers of Mississippi
3010 Lakeland Cove, Suite Y
Flowood, MS 39232
(601) 812-6974

Florida
Breakthru Beverage
500 East Broward Blvd, Suite 1200
Fort Lauderdale, FL 33394
(954) 436-9200
North Carolina
Johnson Brothers
712 Ellis Road
Durham, NC 27703
(919) 596-1144
Virginia
Breakthru Beverage
401 Woodlake Drive
Chesapeake, VA 23320
(757) 424-6300
Georgia
Empire Distributors
3755 Atlanta Industrial Parkway NW
Atlanta, GA 30331
(800) 216-9107
South Carolina
Breakthru Beverage
101 Beverage Blvd
Ridgeway, SC 29130
(803) 337-3500
Wisconsin
General Beverage
6169 McKee Road
Fitchburg, WI 53719
(608) 271-1237
Kentucky
Republic National Distributing Company (RNDC)
2300 Stanley Gault Parkway
Louisville, KY 40223
(502) 254-8600
Distribution (International)
France
Hawkins Distribution
Chez Génin
16200 Bourg Charente
Tél : +33 (0)5.45.35.40.90
China
Shanghai Jovo

The Center, No 989 Changle Road, 18th Fl
Xuhui District, Shanghai
Email : info@ijovo.com

For Media Inquiries Please Contact: 
Christine Deussen
Deussen Global Communications
cdeussen@deussenglobal.com
339 5th Avenue
Suite 501
New York, NY 10001
+1 212 682 2293